How To Use a Puzzle Mat in Your Gym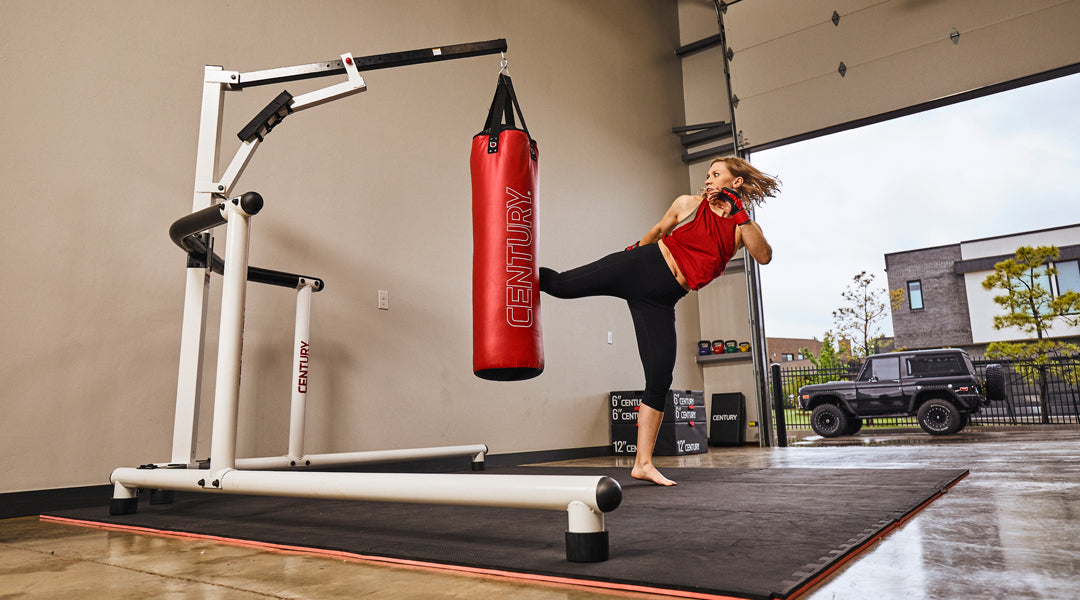 Puzzle mats are foam flooring pieces that interlock to cover all, or certain areas, of your workout space. Suitable for dojos, gyms, and yoga studios, puzzle mats are a simple and economical solution for creating a safe, comfortable, and aesthetic training area. They can cover existing flooring and are easy to install yourself. Think puzzle mats are right for your space? Here's how to use a puzzle mat in your gym.



Choosing a Puzzle Mat
First thing's first, which puzzle mats should you buy? Puzzle mats are available in various thicknesses and color schemes. Therefore, choosing the right mats for your space can be overwhelming. To help you out, below are key things to consider when selecting puzzle mats.

Material
Most puzzle mats are made from EVA (ethylene vinyl acetate) foam. This elasticized closed-cell foam is one of the best flooring options for gyms and training rooms. It provides good shock absorbency and cushioning. It's also durable, water-resistant, easy to clean, and affordable.


Size
Puzzle mats are typically square and come in differing sizes. Multiple mats then interlock to fit the size of your space. Century Puzzle Mats are approximately 40 inches by 40 inches (1 meter x 1 meter) as standard.
You may only need a few puzzle mats for a smaller home gym or numerous mats to cover a larger training space. If you need to fit the mats to the end of a room or an irregular shape, you can cut them with a utility knife.


Thickness
The thickness of a puzzle mat impacts its firmness and critical fall height. CFH is the height from which you can fall and the mat will safely absorb the shock. Choosing the right thickness for puzzle mats depends on the purpose or activity you'll use the mats for.
 For striking martial arts such as kickboxing and karate that have a risk of falling, 0.75 to 1-inch thickness is suitable, and for grappling arts with takedowns such as judo, wrestling or jiu-jitsu you'll want a thickness of 1.5 inches or greater for maximum cushioning.


Surface Texture
The preferred puzzle mat surface texture depends on the type of activities you use the mats for. Surfaces range from smooth to heavily textured.
At Century, our thinner mats feature deeper grooves to provide a better grip for standing exercises and striking martial arts. Our thicker mats have shallower grooves and a smoother texture to prevent surface burns when grappling.



Design and Color
Puzzle mats come in various colors. At Century, our puzzle mats are available in red, black, blue, grey, cardinal, and woodgrain. The mats are reversible with different color variations.
Having an assortment of colored puzzle mats lets you create patterns and designs to personalize your training space. Different colored mats can also distinguish boundaries during fights or mark zones during martial arts tournaments.


Supplier
Another important factor when choosing puzzle mats is to find a reputable supplier that you can trust. A trusted mat supplier ensures no shortcuts are taken in the mats' production. High-quality puzzle mats are much safer and last significantly longer than cheap, poor-quality mats.


How To Use a Puzzle Mat in Your Gym
Now let's move on to using a puzzle mat in your gym.
The first thing you need to do is measure your space to see how many puzzle mats you need. If you plan to cover your entire floor, it's best to buy a few extra mats for errors and corners. 
Once your mats arrive, it's time to install them. Puzzle mats are one of the easiest and quickest gym flooring options to install.


Steps for wall-to-wall puzzle mat installation:
Start in one corner of the room

Ensure a quarter-inch gap between the mat and wall, so there's room for expansion

Begin putting down the puzzle mats

Secure interlocking pieces so they won't separate

Cut mats using a utility knife in the event of them not fitting the end of the room

 
You can also set up puzzle mats in a specific area of your training space or gym in an "island installation." Follow the same method above, other than leaving a gap for expansion.
High-quality puzzle mats should stay in place once you've interlocked them. But lighter mats can become loose over time. If you find your mats coming apart, try using a doubled sided mat tape to secure the mats to the floor. Puzzle mats are best used on hard surfaces and have a tendency to move when used on top of carpet.


Benefits of Using a Puzzle Mat for Martial Arts
While mats might not be the most glamorous investment for your home dojo or gym, they're a vital piece of martial arts equipment. Below are the benefits of using puzzle mats for martial arts.


Provide a Safe Training Area
The primary benefit of using puzzle mats for martial arts is to provide a safe, cushioned barrier between your body and the floor. From striking training to partner grappling drills, ending up on the floor is a common occurrence in martial arts. Without cushioned gym mats, the force of your body hitting the floor could result in serious injuries.


Protect Your Floors From Damage
Puzzle mats help protect your body. They also help protect your floors. Whether it's a home dojo or a large communal gym, damaged floors are timing-consuming and expensive to repair. Puzzle mats help prevent scuffs, scratches, and damage to your space.


Give a Comfortable, Flat, and Stable Surface
Jiu-jitsu, Karate, Taekwondo, and other martial arts require you to train barefoot. But standard flooring can disrupt your footwork and mess with your form. Carpets can cause burns, hardwood floors and tiles may be too slippery, and cork doesn't allow enough movement. Luckily, foam puzzle mats can solve these problems. These mats provide a flat, stable, and comfortable surface suitable for a range of movements during martial arts training.


Reduce Noise
Noise and vibrations caused by training can easily carry around the gym or into other rooms in your home, disrupting your neighbors or others nearby. The shock absorbency of foam puzzle mats helps to dampen any noise.


Economical
Puzzle mats are also one of the most economical types of gym flooring. If you're building a home dojo or outfitting a gym on a budget, you can't go wrong with puzzle mats. High-quality mats can also last anywhere from five to ten years if you take good care of them. There's no need to replace them regularly.


Easy and Versatile
Finally, puzzle mats are simple to install yourself and easy to move around. You can leave puzzle mats in your gym as a permanent flooring solution or quickly pick them up and store them away without taking up a lot of space. The mats are lightweight enough that you can transport them to tournaments and outdoor training sessions too.


Contact Century Mat Solutions for Puzzle Mats
At Century, we know that your training area is more than just a space to exercise. It's a place where you should feel comfortable and somewhere you should be proud of and our puzzle mats are some of the best in the industry! 
We offer
a free consultation
to discuss your vision and find the right puzzle mats for your dojo or gym. We'll work with you to fit your space and budget and help you build your dream space. Contact Century Mat Solutions today to find out more. Email
info@centurymats.com
to get started, today!