A Guide to Gym Wall Mats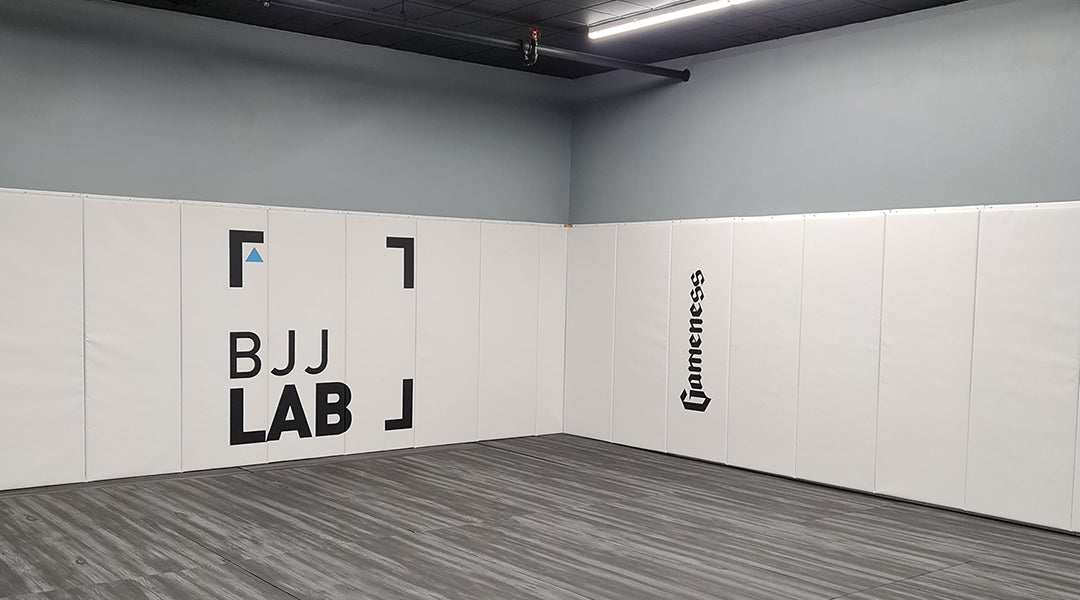 When you're focused on training, you don't want to spend your entire session worrying about whether you're about to put your knee through some drywall or slam your grappling partner into a brick wall. High-intensity workouts, grappling arts, and striking arts all come with the risk of collisions with walls and poles around your training room. These collisions may cause damage to your body and your walls. That's where gym wall mats come in.


WHY USE GYM WALL MATS?
Gym wall mats serve multiple purposes when training, from safety to style. Below are some reasons you should install wall pads and mats in your training space.

SAFETY
When you're focused on training, it's easy to become unaware of your surroundings. High-intensity workouts and martial arts grappling can easily spill off the gym floor and result in collisions with walls, beams, and columns. But while collisions are bound to happen, injuries don't need to. Gym wall mats give an extra layer of padding to cushion your body as you hit hard surfaces. This extra padding may prevent any serious injuries.

WALL PROTECTION
Gym wall mats protect you from injuries. They also protect your walls from damage. Grappling, sparring, and other types of training can result in bodies and items flying across the room and hitting your walls with force. This force can cause significant damage, which isn't ideal if you're training in a home dojo or rented gym space. Wall mats can prevent such damage from occurring.

STYLE AND BRANDING
While safety and damage control are the most important reasons to install gym wall pads, let's not forget about style. Wall mats are a great way to make your gym or home dojo your own. You can choose colors and designs to customize your space. You can also add branding and logos to make your gym look more professional.


FACTORS TO CONSIDER WHEN CHOOSING WALL MATS
With so many types and styles of wall mats, trying to pick the right ones for your space can be overwhelming. Below are some key things to consider.


ACTIVITIES FOR MAT USE
The first thing to determine is the activities you need wall mats for. Depending on the activity, you'll need different thicknesses and coverage. Grappling comes with a greater risk of hitting walls and surfaces. So, you'll need more padded mats and extensive coverage in a home dojo. You'll want to cover the pole and area behind the baskets for a basketball court with post pads. Or, for a weightlifting gym, think about where collisions between equipment and walls are likely to happen.


FACILITY DESIGN
How do you want your gym or dojo to appear? Extensive wall mat coverage will give your space a cleaner and more professional look. But if your workout space is just for you, or if you're building on a budget, you can start with just a few mats in key areas.


MAT MATERIALS
The material of your gym wall mats is another crucial factor to consider. Our wood backed wall mats consist of three main components: wood backing, foam padding, and vinyl cover. We also offer a rollout style mat made of vinyl and foam that adheres to your wall differently.


FOAM PADDING
Foam is the most vital component of gym wall mats. It makes up the interior of the mats and works as the shock absorber.

Different types of foam offer varying amounts of shock-absorbing properties. Two of the most common types of foam in gym wall mats are polyurethane and polyethylene.

Polyethylene is a firm and durable foam. PE is great at protecting your walls from damage, providing extra insulation, and dampening noise. It protects well against high impacts. Polyurethane is a softer foam. It provides a greater cushioning effect when colliding with walls. But it's not quite as strong and durable as PE.


OTHER FACTORS TO CONSIDER WITH MAT MATERIALS:
THICKNESS
Mats come in varying foam thicknesses to provide greater or lesser shock absorption, depending on your needs.


INDENTATION FORCE DEFLECTION
IFD is another important measure of a mat's firmness and shock absorbency. A higher ILD rating means more shock absorption.


ASTM STANDARDS
Your mats should meet official ASTM Standards to ensure the safety of your space. ASTM F2240-11 is the minimum acceptable measure for shock absorption. Your mats should also meet ASTM E-84-08a flame retardant standards.


DURABLE COVER
The vinyl cover should be tear-resistant, non-absorbent, and easy to clean. At Century, our smooth-coated vinyl pads are anti-mildew, anti-fungal, antimicrobial, and antibacterial.


PREPARING FOR WALL MATS
You have to install gym mats correctly for them to be safe and effective. But before installation, there are things you should do to prepare.


ACCURATELY MEASURE
Measuring your space is the first thing you need to do when installing wall mats. Accurate measurements ensure you order mats in the right size and length. You can also order custom-sized wall pads to fit uniquely shaped spaces.


WHEN MEASURING FOR WALL PADS, CONSIDER:
DISTANCE FROM FLOOR
You should install mats close to the floor. But you also need to allow room for mats to grow or for the floor to breathe.


GETTING THINGS LEVEL
All floors aren't 100% level. Measure to the desired height around your workout space and level off accordingly.


ACCOUNT FOR DOORS OR OBJECTS
You can cut wall mats to fit around doors, windows, fire extinguishers, outlets, etc. Make sure to account for these in your measurements.

REPAIR ANY HOLES OR CRACKS
Gym wall mats aren't there to hide sins in your workout space's walls. For safe mat installation, it's vital to repair any holes or cracks first. You can easily do this yourself with spackling or patching compound or hire a professional to do it for you.


OBTAIN THE RIGHT CLEANING SUPPLIES
Good quality and well-treated wall mats are easy to clean. You can get rid of smudges and small dirt patches with hot water and a sponge. Specialized vinyl mat cleaners are recommended for more thorough disinfecting commercial gyms. Try basic dish soaps, mild disinfectants, or specialized vinyl mat cleaners for more thorough cleaning for home gyms. Avoid any cleaners with chlorine bleach or acetone. Gritty cleaning materials such as scouring sponges can also cause damage to wall mats.


INSTALLATION OPTIONS
Different wall mats have varying installation methods. Some even come with multiple installation options to pick the best for your space. Whether you're installing your gym wall mats yourself or paying someone else to do it, it's still good to know your installation options.


WALL MAT INSTALLATION OPTIONS INCLUDE:
Screw Secure: You can install many wall mats with screws or nails. These mats feature a one-inch margin at the top and bottom for nailing the pads into the walls. Screws are a more permanent solution for installing wall mats.
Z-Clips: Z-Clips are metal clips used to hang heavy items. One clip is attached to the wall and the other on the back of the mat. The clips then lock to mount the mat. Z-Clips are a durable and simple installation option that allows you to remove the mats when needed. Z-clips are the recommended professional installation option.
Constructive Adhesive: Another option is to install roll out wall pads with a construction adhesive. Video links to these methods can be found at the bottom of this article.


GET CUSTOM GYM WALL MATS FOR YOUR TRAINING SPACE WITH CENTURY MAT SOLUTIONS
At Century Mat Solutions, we offer a free consultation to help you find the right gym wall mats for your space and turn your home gym or dojo into a place you can be proud of. We offer fully customizable mats in various sizes, shapes, designs, and colors. Contact Century Mat Solutions today to book your consultation and find out more.