Selecting the Best Training Floor Mats for Your MA Discipline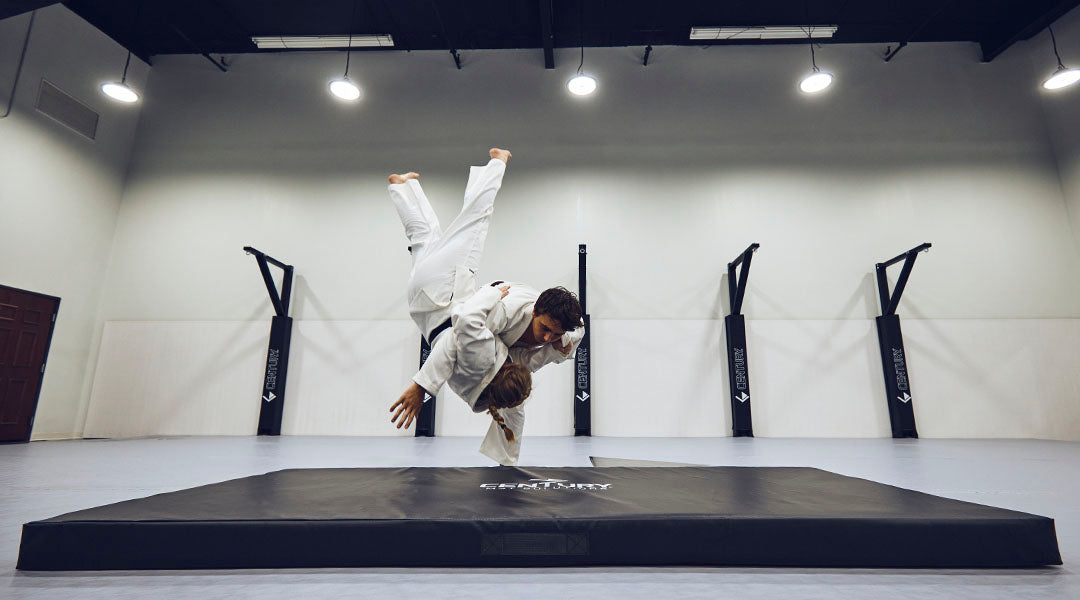 Selecting the right training floor mats is crucial when building a gym or dojo for martial arts training. But that doesn't mean it has to be stressful. 
Different martial arts styles have varying requirements, so choosing the right mats is essential. This post will help you understand the types of training mats available and the MA disciplines they're best suited for, so you can make an informed and worry-free decision. 


Signs You Need New MA Training Floor Mats
High-quality training mats are extremely durable and can last many years. But even the best mats won't last forever. If your mats show wear and tear, it may be time to invest in new ones. Mats become less effective and comfortable over time. Worn mats also can be dangerous for you or those using your training facilities if they lose their cushioning ability or tear.
You may need new MA training mats if:
Visible wear is showing
Colors and prints are fading
Edges are curling
Cleaning is a challenge
Slips are more frequent
Comfort has decreased

Understanding Martial Arts Floor Mats
Before we jump into the different types of MA training floor mats, there are some important things to understand. Most mats are available in various sizes, thicknesses, and materials. Knowing your options will make selecting the right mats for your MA discipline much simpler.


Size and Thickness
Training mats vary greatly in size and thickness. The ideal mats for your space depend on the area and shape of your gym or dojo and your MA training discipline. 
At Century, our mats range from small 40-by-40-inch interlocking puzzle mats to rollout mats that can be customized to fit any space. Measuring your available space is one of the first steps in choosing mats.
The required thickness of your mats depends on your MA discipline. Thinner and firmer training mats offer light cushioning and a stable surface for standing and striking martial arts. Thicker mats (1.5 inches or more) and crash pads are better suited for grappling arts to soften the impact of takedowns, throws, and falls.


Materials
Material is another important factor to consider for training floor mats. The most common materials used in training mats are closed-cell foam (EVA), rebond foam and vinyl. 
Foam is what gives mats their absorbency and cushioning ability. EVA foam and cross-linked polyethylene foam are most common. EVA foam is soft, durable, and offers a good amount of cushioning. Cross-linked polyethylene is a little stiffer, but it's also extremely shock-absorbent and quickly bounces back to its original shape. Either type of foam works well for all MA disciplines.
Vinyl typically covers foam mats and crash pads. It's a durable, non-slip, and easy-to-clean material, making it great for all martial arts styles. Vinyl is especially comfortable when training with bare feet.


Selecting the

Best Training Floor Mats for Your MA Discipline

There are multiple types of floor mats for martial arts training. Some mats are versatile and work for various MA disciplines and workouts. Other mats are more tailored toward a specific style of training. 

Below we've listed the most common types of training mats, their primary advantages, and which martial arts they're best for.



Puzzle Mats
Puzzle mats are foam flooring pieces that interlock together to cover all, or certain areas, of your training space. The mats are simple to install and can be customized and cut down to fit any size or shaped studio or gym. They're available in various thicknesses, textures, and colors, so they're suitable for various martial arts. 
Advantages of puzzle mats:
Versatile
Lightweight
Water-resistant
Simple to install
Easy to store and transport
Dense and heavy-duty
Economical
Best for:
Karate

 

Taekwondo
Hapkido
Tang Soo Do
Muay Thai
Kickboxing
Grappling (1.5" thick is suitable for most grappling disciplines)
And many other striking disciplines, and more
Tile Mats
Tile mats are simple square or rectangular mats that can be configured to create different sizes and is offered in multiple thicknesses. These mats are often offered in a smooth or tatami texture, depending on your specific need. They offer a stable and sturdy surface for standing arts while still providing a good level of cushioning for falls and footwork. But, tile mats tend to be heavier and less portable than other training mats, meaning they're not as easy to store away or transport. Many people use wood frame kits to keep the mats in place and to keep them from moving while training. 
Advantages of tile mats:
Smooth or tatami tile mats offered
Easy cleaning
Extremely versatile
Hassle-free expansion
Professional and clean appearance
Best for:
1.5" thick is best used for your grappling disciplines, which include BJJ, Jujitsu, Judo, Wrestling and MMA
.75" thick is best for your striking disciplines, which include karate, Taekwondo, Hapkido, Muay Thai, Tang Soo Do, and more
Rollout Mats
Rollout mats are lightweight mats that can be connected together to create any space, whether large or small. They can cover any type of flooring and provide a safe and stable surface for various martial arts. You may only need a few of our home rollout mats for your smaller home dojo, or you can use our full-size custom mats and connect them together with one of our multiple connection options to cover any gym or facility. This style of mat is offered in both smooth or tatami textures with a variety of colors and thicknesses available.
Advantages of rollout mats:
Smooth, non-slip surface
Easy installation
Easy to roll up and store away
Low maintenance and easy to clean
Effective for various workouts and MA disciplines

 
Best for:
Wrestling
Home gyms
Commercial facilities

 

Any striking or grappling discipline

 
Carpet Bonded Foam Mats
Carpet bonded foam mats are cushioned foam topped with heavy-duty carpet. This style of mat rolls out to your desired length to cover part or all of your training space, making it a great non-permanent flooring option for larger gyms. It's durable and provides a safe all-around training space. Although, the rough carpeted surface isn't particularly comfortable for grappling disciplines. 
Advantages of bonded foam mats:
Durable
Versatile
Superior impact absorption
Easy to install
Good for larger spaces
Best for:
High impact activities
Gymnastics
Cheer
Martial arts
Ninja, Parkour and Stunts as well!
Crash Pads
Crash pads provide the highest shock absorbency of training mat. Most range from 4- to 12-inch thickness. Air is released when you hit a crash pad for greater cushioning and support. These mats help prevent serious injuries when practicing takedowns, throws, falls, and advanced martial arts moves. You can fully commit to your training with crash pads without worrying about hurting yourself or your opponent. 
Advantages of crash pads:
High shock absorbency
Softens the blow of heavy falls and throws
Best for:
Best used for grappling disciplines when practicing falls or takedowns

 

Gymnastics
Ninja, Parkour and Stunts
Rock Climbing
Century Can Help You Select the Best Training Floor Mats for Your MA Discipline
Still unsure what you need? We offer a free consultation to help find you the ideal mats for your discipline and training style. You can find more information at www.CenturyMats.com or contact Century Mat Solutions to find out more.