How Thick Should My Gym Flooring Be?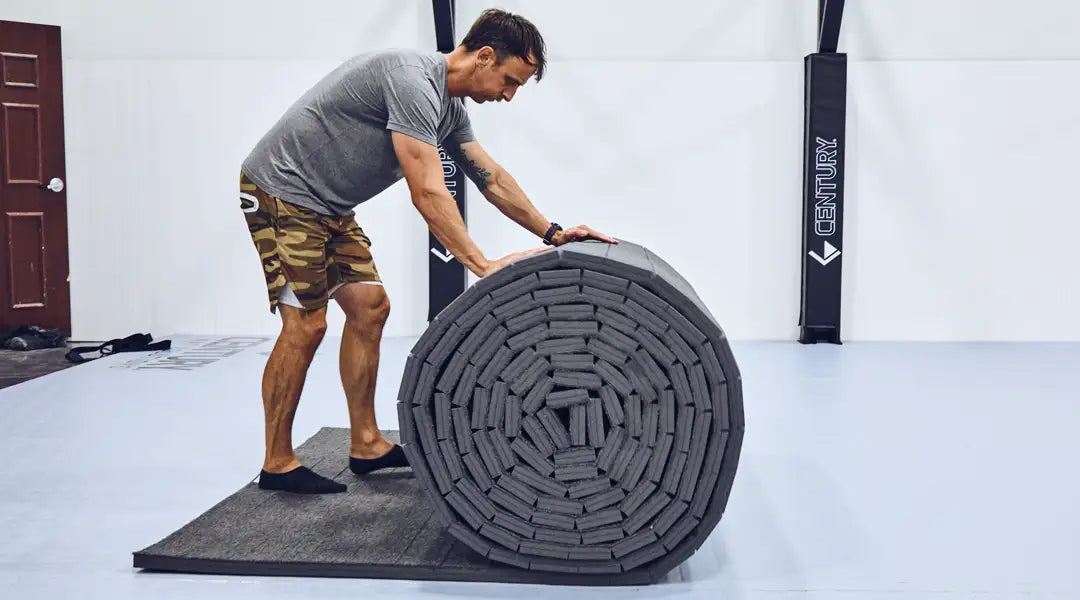 Having proper gym flooring in your training space isn't only for aesthetics. Gym flooring and training mats provide a safe, stable, and comfortable surface for you to train on without worrying about damaging your body, floor, or equipment. But finding the right flooring solution for your gym comes with questions like, "How thick should my gym flooring be?" It's a question Century can help you answer.
Reasons Gym Flooring Thickness is Important
Thickness is one of the most vital factors in choosing the right gym flooring solution for your space and training style. The right flooring thickness will help protect you and your facility during training sessions.
Provides Safety
The thickness of your flooring is crucial for your safety when working out or training in many martial arts. The thickness of a training mat or gym flooring impacts the shock absorption. Thicker mats provide extra padding between your body and the hard floor, reducing the risk of serious injuries. A greater shock absorption is critical when grappling or practicing advanced martial arts moves.
Prevents Floor Damage
As well as helping protect your body, gym flooring and mats protect your floors from serious damage. You can easily scratch, scuff, or dent regular flooring during training or by supporting heavy fitness equipment.
Absorbs Sound
Thumps, bumps, and crashes happen during training, whether from intense sparring or grappling sessions. But if you have a home gym or even a commercial gym with close neighbors, other people might not welcome the noise. Gym flooring is great at absorbing sound and reducing disruption.
Elevates Performance
Gym floors and training mats can also boost performance by giving you extra peace of mind. You can push yourself to your limits knowing that there's a stable and shock-absorbent layer of padding to catch you if you fall.
How Thick Should My Gym Flooring Be?
Now that you know the importance of mats, your next question likely is, "How thick should my gym flooring be?" There's no one-size-fits-all answer to this question. Gym flooring and training mats come in various thicknesses, ranging from around .75" to 2" thick. The right gym flooring thickness depends on the type of workout or martial arts style you'll practice most.
One inch or less
Mats that are thinner than one inch or less provide cushioning and support without losing their firmness and stability. Thinner gym flooring options are ideal for movement-heavy workouts and plyometrics such as CrossFit, HIIT, and yoga.
They're also a good choice for many standing and striking martial arts. Flooring under one inch protects from light falls while being stable enough for kicks, jumps, and spins. Experts don't recommend anything under an inch for grappling or groundwork arts. If there's a high likelihood of you hitting the floor with force during training, opt for thicker gym flooring.
One-inch gym flooring and training mats offer extra padding and protection for standing and striking martial arts. They're still firm enough for movement and footwork — you won't need to worry about sinking into the mats, but they'll give you greater peace of mind while training. One-inch mats are great for martial arts such as karate, muay Thai, taekwondo, kickboxing, and kung fu. 
One and a half inch to two inches
Thicker mats and gym flooring offer the best level of protection for grappling and groundwork martial arts such as judo, jiu-jitsu, wrestling, aikido, and Hapkido. In fact, many of these MA federations require tournament mats to be 1.5-2 inches thick for participants' safety.
Thicker flooring provides the most cushioning and shock absorption for your body. It reduces risk and helps prevent serious injuries during takedowns, throws, falls, and advanced martial arts moves.
Increased Thickness (Crash Pads)
Crash pads aren't a viable option for covering your entire gym floor. But they are good to have in your training space. Crash pads range from four to 8 inches and offer the greatest protection from injuries. When you hit a crash pad, the air is released to provide extreme cushioning and support for your body.
While much too thick for standing, striking, and sparring, crash pads are great for practicing takedowns, throws, and falls. They help prevent serious injuries and provide a worry-free training space for more advanced martial arts moves.
Don't Forget about Foam Density
It's essential to be aware that thickness isn't the only factor to look for when choosing gym flooring and mats. Foam density can also affect the level of cushioning and support a mat provides.
High foam density means a material will bounce back to its original shape quicker, making it firmer and more practical for footwork and movement. You can get thicker mats with a high foam density, which is something we'd highly recommend for most martial arts.
Best Flooring Options
There are multiple styles of gym flooring to choose from, many of which come in various thicknesses. Below, we'll run you through some of the main flooring and mat options for gyms and dojos.


Puzzle Mats
Puzzle mats are foam flooring pieces that interlock to create a permanent or temporary gym floor. They're extremely versatile mats and range from .75" to 1.5 inches in thickness, making them great for many different workouts and training styles. Puzzle mats are often high-density foam, offering a good level of protection without losing firmness. Our puzzle mats go through an intense quality and compliance process, ensuring that they will never break down with full size athletes and free standing heavy bags.


Tile Mats
Tile mats are durable and stable square/rectangular mats that can be used on their own framed in to prevent movement. Like puzzle mats, they come in different sizes and thicknesses to fit your training space and style. At Century, our .75" tile mats are better suited to standing arts, while our 1.5-inch tile mats are perfect for grappling arts.


Rollout Mats
Rollout mats are better for are manufactured in 6 foot widths and are cut to any length. Rollout mats are great for home gyms or dojos.Thinner rollout mats are ideal for your striking disciplines, while thicker rollout mats offer a safe training area for many types of martial arts, including wrestling, judo, and jiu-jitsu.


Carpet Bonded Foam Mats
Carpet bonded foam mats are one of the best options for covering your entire gym floor. This gym flooring solution consists of cushioned foam topped with heavy-duty carpet and rolls out to your desired length. Carpet bonded foam ranges from 1-⅜" to 2", creating a safe all-around training space for many workouts. The heavy-duty carpet provides a non-slip and stable surface and is easily connected with hook tape. These mats are ideal for cheerleading, gymnastics, martial arts, rock climbing, parkour, ninja training and so much more!
Underlayment Mats
Subfloor underlayment is a simple flooring solution that goes underneath other mats and flooring to add an extra layer of padding. You can customize the size of underlayment to fit your entire training area, then use other mats on top. Underlayment comes in various thicknesses, from ⅝" to 2", so you can find the right level of protection for your space.
Contact Century to Determine the Right Gym Flooring Thickness for Your Space
Still unsure which thickness is right for your workout space and training style? We offer a free consultation to help you find the ideal gym flooring solution. Contact Century Mat Solutions to find out more.