Choosing Mats for Your 10x10 Workout Room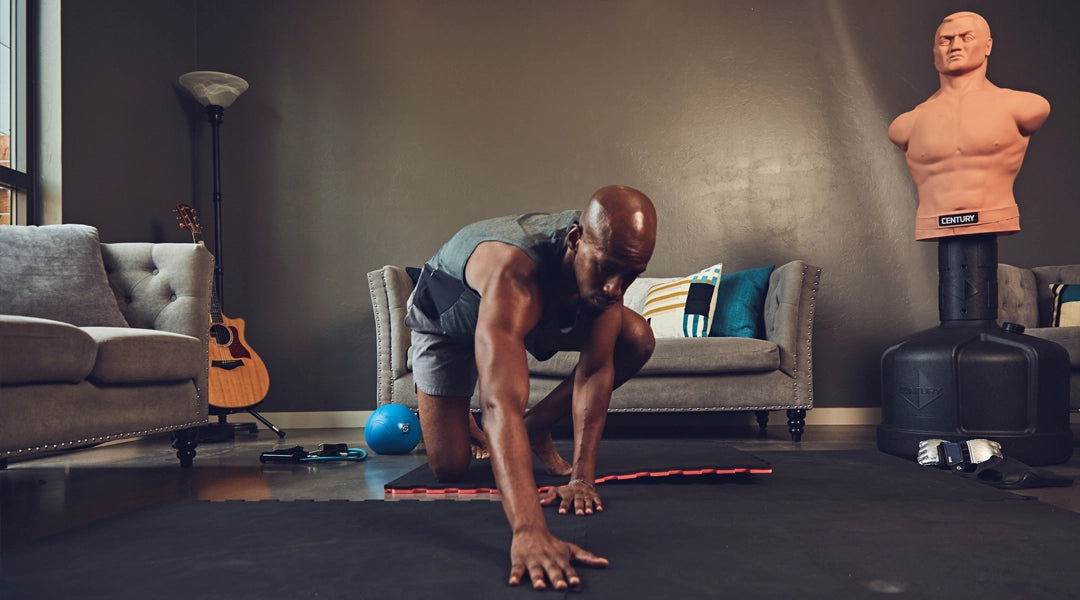 Home gyms and workout rooms are becoming increasingly popular in recent years. But not everyone has space for a huge commercial-sized gym in their home. Fortunately, building a functional 10x10 workout room is entirely possible, no matter your training style.   


In this post, we'll run you through how to build a 100-square-foot workout room, including the flooring and mats you need to create a safe and comfortable space.  


Considerations for a Small Workout Room
When building a small workout room, there are things to consider. With just a little planning and forethought, you can easily build a functional 10x10 workout room in your home to help you meet your training goals. 


Placement, Size, and Shape
The first thing to consider for your home workout room is where you want it. Many people choose to build home gyms in their garages or basements. But a spare room in your house can also work well.  


Think about the size and shape of each room you're considering. These factors will influence how the final space turns out. Square or rectangular rooms work best for home workout spaces. If your room has a unique shape, you may have to get a bit more creative with equipment and flooring placement.  


A 10x10 workout room is a common size for a home gym or dojo. It's compact enough not to take up too much room in your home but still big enough to fit some essential workout equipment or a decent-sized training area. 


High ceilings are also crucial if you'll be using tall weight machines and equipment or practicing martial arts throws and jumps.  


Intended Use
Another critical decision to make when building a 10x10 workout room is the room's primary function. What will you use your space for? Do you want a home weight room? A space for cardio workouts? Or a dojo for martial arts training?  
 
The room's intended use will dictate many other factors, including the necessary equipment, flooring, safety features, and room layout.  


Equipment
Once again, the type of equipment you need to create your 10x10 workout space will depend on its intended use. 
 
For a weight lifting gym, you'll have to pick a few pieces of essential multi-functional equipment rather than isolation machines. A full power rack will take up most of your room, so it's best to opt for a half rack, a bench press, squat stand, or free weights instead. 


In a 10x10 cardio gym, you'll have enough space for a couple of pieces of bigger equipment, such as a treadmill and spin bike. Or for one piece of equipment and a training area for HIIT workouts or CrossFit. 


You'll want to leave the majority of space for a dedicated training area for a home dojo. There's also the option of adding punching bags and crash pads for more advanced training. 


Safety
When installing equipment in your workout room, you also need to consider the safety of the space and the people who will use it.  
 
Large equipment such as treadmills and weight machines require a certain amount of space around them to reduce the risk of wall damage and potential injuries.  
 
Smaller home dojos may also require wall pads or post pads to soften the blow of your body hitting solid surfaces during intense training or grappling sessions. 


Flooring Options
Installing appropriate flooring is another simple yet essential element of creating a safe and comfortable workout space.  
 
With a 10x10 workout room, installing gym flooring is quick and easy to do yourself. There are various flooring and training mat options that you can use in a smaller workout space. We'll discuss these in more detail in the next section.
 
Choosing Training Mats for Your 10x10 Workout Room
Padded training mats are a vital component of any gym or workout space, regardless of size. Mats help to reduce the risk of serious injuries and prevent regular floors from getting damaged and causing problems down the line. Below are some of the most suitable gym flooring options for a 10x10 workout room. 



Roll-Out Mats
Roll-out mats are a versatile and lightweight temporary flooring solution for smaller home gyms and dojos. You can roll the mats out to cover all or some of your training area, then roll them back up and store them away when not in use. Roll-out mats are also available in various thicknesses, depending on their intended use.   


You can use floor tape to connect two Century 5x10 feet roll-out mats to cover your entire 10x10 workout room and provide a safe and stable base for various workouts. 
 
Roll-out mats are best for:
Jiu Jitsu

 

MMA

 

Wrestling

 

HIIT workouts

 

Core exercises

 

Yoga


Puzzle Mats
Puzzle mats are small rubber or foam flooring pieces that interlock like a puzzle to cover your workout room floor. They're simple and easy to install yourself. You can even cut the mats to fit the smallest and most uniquely shaped rooms. Puzzle mats are also one of the most economical flooring solutions for building a home gym on a budget. 


Century puzzle mats are 40x40 inches in size. We offer a free consultation to help you determine the correct number of mats for your training space. 


Puzzle mats are best for:
Taekwondo

 

Karate

 

Jiu Jitsu

 HIIT workouts
Core exercises
Yoga (smoother texture)
Underneath machines and equipment 

Tile Mats
Tile mats are durable square or rectangular mats that can cover a small area of your training space or the entire gym floor. They provide a stable, shock-absorbent surface for various workouts and martial arts training disciplines. As tile mats are more heavy-duty than roll-out or puzzle mats, they aren't easy to store away or transport. 


Century tile mats come as 39x78.75 inches as standard. You'll need three or four title mats to cover your entire 10x10 workout room, depending on the shape of your space. 


Tile mats are best for:
Jiu Jitsu

 

Judo

 

MMA

 

Boxing

 

 

HIIT workouts 
Core exercises 
Yoga (smoother texture)


Carpet Bonded Foam
Carpet bonded foam consists of cushioned foam topped with heavy-duty carpet. This durable flooring solution can roll out to cover your entire 10x10 workout room, providing a safe all-around training space. Many people use carpet bonded foam as a base layer, then place smoother training mats on top in some areas for extra padding and to avoid carpet burns. 


Carpet bonded foam is best for:
High-impact martial arts

 

High-intensity workouts

 

Wall padding

HIIT workouts

Core exercises 
Additional Mats to Enhance Safety
You can add some additional flooring options to increase the safety of your workout room even more. 


Underlayment Mats
An underlayment mat is a layer of subflooring that goes underneath roll-out, puzzle, or tile mats. It adds extra padding and protection to create a safer and softer training room floor. 


Century underlayments are customizable to fit any space. They come in various thicknesses to suit your training needs. 


Underlayment mats are best for:
Martial arts

 

High-intensity workouts

 

Crash Pads
Ranging from 4 to 8 inches in thickness, crash pads provide the most cushioning and shock absorbency of any available mats. They allow you to commit to your training without worrying about serious injuries. 


But, averaging 4x8 feet in size, a crash pad will take up a large area of your 10x10 room. A crash pad is only worth adding to your workout space if you regularly practice takedowns, throws, falls, and advanced martial arts moves. It's also helpful to have somewhere to store your crash pad away when not in use. 


Crash pads are best for:
Jiu-Jitsu

 

Judo

 

MMA

 

Wrestling

 

Century Can Help You Choose the Right Training Mats for Your 10x10 Workout Room 
At Century, we offer a free consultation to help find you the right mats for your 10x10 gym or dojo. We'll work with you to fit your training style, available space, and budget. Contact Century Mat Solutions today to find out more.